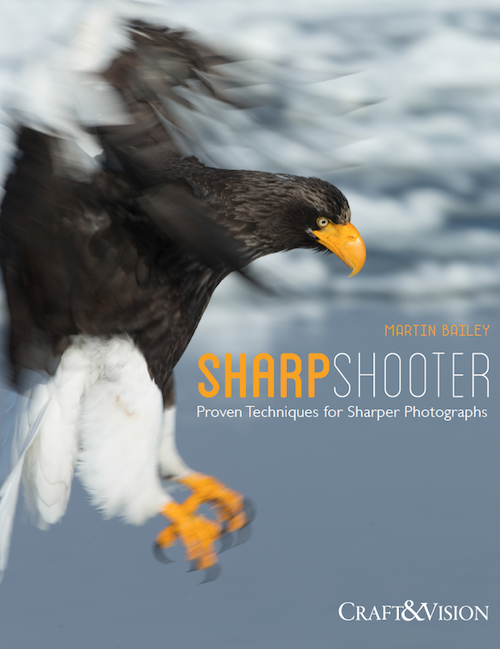 When I went to Japan this year to meet Martin Bailey for the first time I was impressed by two things beyond the fact that he's just a ton of fun to be around. First, the man's an excellent teacher. Second, he knows his craft. He knows stuff I've never heard of. And it shows. I know I lean to the artsy side of things, so I need people like Martin around to keep me on my toes and keep my craft honed. Sharpness is one of those aspects of the craft Martin taught me new things about. I've said before that if the best thing someone can say about my work is that it's tack sharp, then I've probably failed. But at the same time, if it's dismissed because a flaw in my technique or understanding, my art doesn't have a chance to be heard.
Martin wrote Sharp Shooter, Proven Techniques for Sharper Photographs because I asked him to. I learned so much from him in Hokkaido about this stuff that I knew we needed to publish it, and he's created another excellent book. Martin, in his usual clear and concise fashion, covers the gamut on this from hand-holding techniques, stabilization, what makes an image sharp in the first place, to macro-sharpness, focus stacking, techniques to make your images sharper for final output, and more. I swear to Ansel Adams, you'll be hard pressed to find a guy who makes sharper photographs, and he can teach you to do it too.
Sharp Shooter is a 36-spread downloadable PDF eBook, and it's available today from Craft & Vision. Read to the bottom of the page for the usual discounts and purchase codes. Here's a glimpse inside the eBook:
[hana-code-insert name='BUY – Sharp Shooter' /]
Use the promotional code SHARP4 when you check out and pay only USD $4 OR use the code SHARP20 to get 20% off when you buy 5+ Craft & Vision products. These codes expire at 11:59 PM (PST) July 4, 2013.