Giveaway: QUEST Vest, by SCOTTEVEST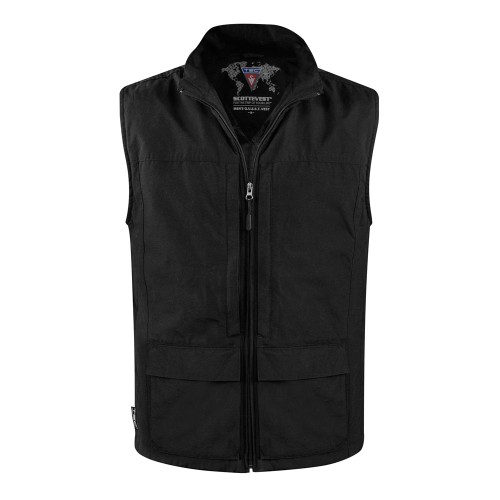 Scott Jordan and his team at SCOTTEVEST have just made their already amazing Travel Vest even better for photographers by releasing a new version called the QUEST vest. Here's a review I've been putting together in my brain for a while. Consider it more of a reaction, as the last few months I've not been travelling, but I've used their Travel Vest for years and can vouch for the quality, so don't feel I need to test this one to endorse it. Keep reading, because we're giving three of these beauties away.
First, if you're not familiar with the vest, the idea is to carry your stuff – iPhones, wallets, passports, and the million other loose bits you inevitably end up with while travelling, in one place – well distributed on your person. In this all the SCOTTEVEST products excel. On the QUEST vest there are 42 pockets (compared to a paltry 24 on their classic Travel Vest). Including an internal pocket with a clear face through which you can touch-operate your iPhone (headphone wires channel discretely through the lining), an RFID pocket to protect yourself again people with RFID scanners from scanning your credit cards or passport, an internal pocket large enough to carry an iPad, and a back pocket large enough to carry a small laptop, like my 11" MacBook Air should the folks at the boarding gate decide that I'm carrying too much weight. Into the vest it goes, and onto the plane I walk, then redistribute my valuables, sparing them from being gate-checked.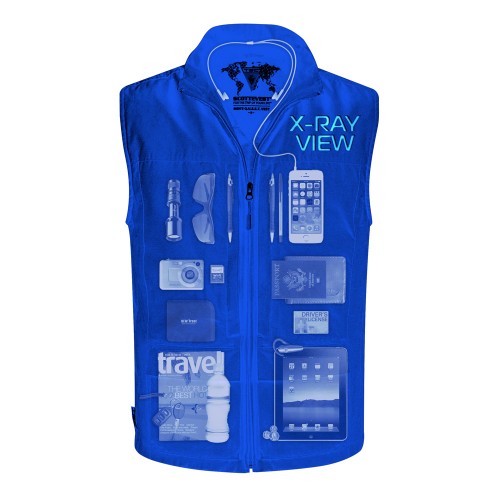 Here's why I'm excited about this new vest over the old one, which I loved, and why I'll be using this vest for air travel. It's all about the pockets. And the increasingly strict airline carry-on rules. The pockets are finally large enough for me to use for my gear – but that's a matter of timing. Now that I am, like so many other travelling photographers, using mirrorless cameras with smaller lenses, it doesn't take massive pockets and super heavy cloth to carry them. If I had to I could put my laptop, Leica M, Fuji XE-1, and 4-5 lenses into this without breaking a sweat. Take that, Ryan Air! When I got where I was going, I could walk around all day with my important personal stuff, extra batteries, and my cameras on my shoulder, and never carry a bag.
If you're using big DSLR gear, then sadly, no vest that looks this good is going to carry it all. But with the mirrorless cameras and rangefinders, these pockets are really functional. Easy in and out with the lenses, and no noisy velcro – just zippers and magnets. I love how quiet these vests are. When you're in churches, shrines, and mosques, or just want to be unintrusive, silence is important.
The two weaknesses I see, slight as they are, are worth mentioning: the new hood (I just don't like hoods), which zips into the collar, but not off the vest completely, and the increased weight. It's just not realistic to expect any vest to carry what this does, and remain durable, while still being comfortable in 40 degrees Celcius temperatures and 100% humidity. I wish it were a little lighter and that's what I'll miss from my original Travel Vest. But really, if it's that hot, I'll go out with one camera, and even the shirt on my back is going to feel uncomfortably hot.
Ultimately, if you want to travel and work light, and keep your gear on you without carrying bags, the new QUEST vest is worth looking at. And if you work with any of the smaller cameras these days, this might just be all you need. We're planning a lot of global travel over the next two years and I don't imagine myself going to the airport without my vest. As a bonus, and I'm not slave to fashion, they don't look like photo-vests.
Check out the complete features and pocket diagram on the SCOTTEVEST site. It'll blow you away how well conceived this vest is. When I got my first vest several years ago I was finding new pockets weeks later. Their service is excellent, and their craftsmanship is exceptional. And as an aside, they have an astonishing amount of similar products, like their SeV Puffer Jacket if you're heading somewhere cooler. Check them out at ScotteVest.com
And to put the icing on the cake I asked Scott if he'd be willing to give one of these vests away to one of my readers and he very enthusiastically agreed and gave us three! So drop your name in the comments, tell me where you want to travel with your QUEST vest and we'll draw three names at random in 2 weeks and Scott will send those lucky readers a QUEST vest in the size and colour of their choice.