Lightroom 5 Unmasked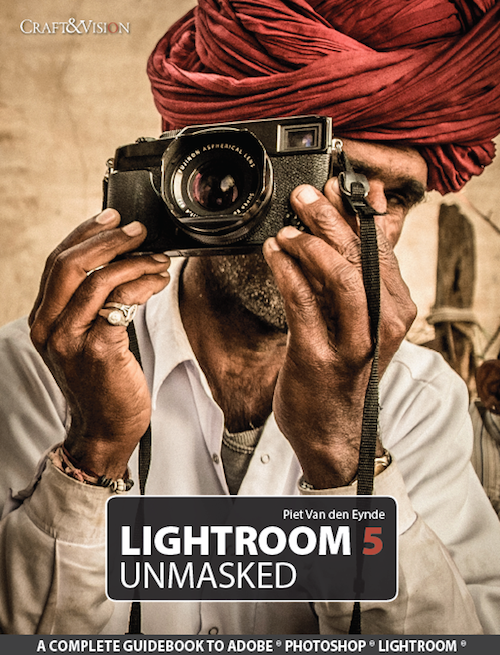 The day Adobe Photoshop Lightroom 5 came out, we released an eBook by Piet Van den Eynde called Lightroom 5: Up to Speed – it was a glance – though a thorough one – at what was new in Lightroom 5. Today we're releasing Lightroom 5 Unmasked, A Complete Guide to Adobe Photoshop Lightroom 5. We don't use the word "complete" lightly, but in this case, it fits. The eBook massive! Piet covers it all, every module and feature with his usual excellence and clarity.
Piet's the guy I go to to brush up on Lightroom. I first met him in Ladakh, India. Ironically, he had come there to photograph with, and learn from, me, but in our spare time the things I picked up from him about Lightroom were amazing. And that was after I'd written my own best-selling book about Lightroom. Dude knows his stuff. This is his second complete guide to Lightroom and his first remains one of Craft & Vision's all-time best-sellers. It's 13 chapters, covering everything from an introduction to Lightroom and non-destructive editing to full discussions of the Library and catalogs, to every tool in the Develop, Map, Book, Slideshow, Print, and Web Modules. Piet also includes 69 cases – smaller topics that often get overlooked. A 356-page PDF, it's searchable and printable, and you can put it on as many devices as you need or want to.
If you want to learn Lightroom 5 or think you already know it, Piet will teach you a tonne of great stuff. Lightroom 5 Unmasked is a killer value. And for the next week it's only $17 instead of $20 (discount codes are at the bottom of this post).



Hey, while we're talking about discounts, this is the last time the discount codes will be so public. From now on these discount codes, along with featured deals, resources, and giveaways (this month it's a Gura Gear 26L Bataflae bag, worth over $400) will be available only through THE CONTACT SHEET, Craft & Vision's newsletter. If you already get our product emails, just sit tight, you'll be getting The Contact Sheet from now on. If you're not getting our newsletter, but want to,  just sign up here.
Use the promotional discount code UNMASKED3 when you check out and pay only $17 OR use the code UNMASKED20 to get 20% off when you buy 5+ Craft & Vision products. Codes expire at 11:59 PM (PST) November 4, 2013.