The Visual Toolbox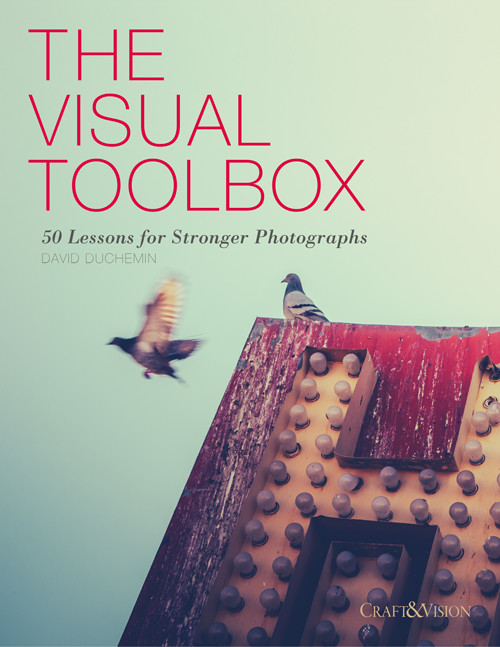 *UPDATE (SEPTEMBER 24, 2014): The Visual Toolbox has been acquired by Peachpit Press! This product has be pulled from the C&V store never to return. When Peachpit publishes it in early 2015, it'll hit bookshelves with a new cover, and 10 new chapters.
Something about making photographs makes sense to me. It has since I was fourteen. I love photographs, and making them, more now than I ever have. Learning this craft, and creating this art, is one of my great joys. Teaching it, too. I've thought often about what it would look like to open a photography school – an honest-to-god place where people could come and learn together, a place where we could dispense something more than a bunch of tips, magic bullets, and quick fixes when the first two fail. And who knows, maybe one day, but knowing that day wouldn't be soon, and even if it were there'd be more people that couldn't come than could, I created The Visual Toolbox.
The Visual Toolbox, 50 Lessons for Stronger Photographs is my curriculum for year one of a photography school that doesn't exist, but could. It's the bones, a year's worth of lessons and assignments for photographers who want to do more than just master their cameras, but to create photographs. It's for photographers who are stuck and for those having a hard time making it an aesthetic art and not merely a technical craft. It's for anyone who can benefit from sitting at the feet of a photographer who has learned – and is still learning – these lessons the hard way and wants others to benefit from them.
They say the book you write should be the one you yourself want, and so I made this book for my 16-year old self, a passionate young photographer who took way too long to learn that this art is so much more than just making a good exposure and learning to focus. There are no magic bullets, and no quick tips in this book but I'm very sure that if you don't just read this book but study it, and do the lessons, you'll become a stronger photographer faster than you will with all the quick-tips and platitudes out there. Every one of the 50 lessons, and the accompanying assignment work, is a stepping stone to becoming more proficient with the tools of this art, and the means by which we can create stronger experiences with our images. Some of those tools are the camera and lens, but many of them have to do with composition, balance, tension, scale – visual language tools, or with being present, perceptive, and learning to see. And they're all practical, get out there and do it, kind of lessons, because in the end you aren't going to learn photography from a book, but from time spent making photographs. This book is a collection of 50 guided steps in that direction.
My first Craft&Vision BigBook, The Visual Toolbox is a 201-page downloadable digital book in PDF format, and will be my only new book until sometime in the middle of 2014. I'm thrilled to be getting this out and to be able to share it with you. Do me a favour? If you've benefited from my books in the past, I'd be so grateful if you'd introduce your world to this book by using the social media buttons below to share this, or even to review it on your blog. Either way I hope you get even more than you expect from this book, and that it takes you steps forward on this journey. Thanks as always for your support!