The Best Deal in Education Ever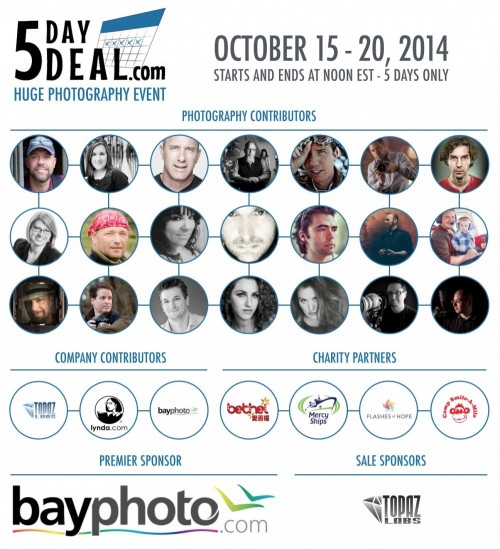 Today is the first day of the 5 Day Deal, an idea I like so much I'll be kicking myself for years for not thinking it up myself. Here's the deal: a bunch of photographic educators -some of the best on the planet, like Gavin Gough, and Zack Arias –  bundled some of their best products, over $2,000 worth of products to be exact, in a package that will cost you only $89. That's 95% off, and it lasts only 5 days, then it disappears.
Only $89 for 300+ Lightroom presets, 70+ hours of video tutorials, 500+ professional textures, and a whole bunch of great eBooks. Just to be able to get Zack Arias' 4-part video series OneLight 2.0 will be worth it! And Gavin Gough's teaching on workflow is killer. And there's over $100 worth of Craft & Vision products. Take a minute to look at the offering, it's huge. 
On top of this incredible deal, a really big chunk of change goes to four worthwhile charities – Flashes of Hope, Mercy Ships, Camp Smile-A-Mile, and Bethel. And if you get in on the 5 Day Deal through the links here on this blog (it's an affiliate thing), we're going to give an additional 10% of what we earn (above what Craft & Vision normally gives to The Boma Project) to two of my favourite projects, The BOMA Project, and The Kilgoris Project, both working in Kenya, and both doing exceptional grassroots work among the poorest of the poor, and people I know and love. I know we have a lot of sales, and there's a ton of stuff out there to choose from when it comes to spending your money, but this is hands-down, the best deal you're going to get in photographic education for a long, long time. Do me a favour and take a look, you won't regret it.
Updated: We're going to raise our donation to 20% – that's 10% to each BOMA and Kilgoris. Thanks for being part of this!