Pushing Light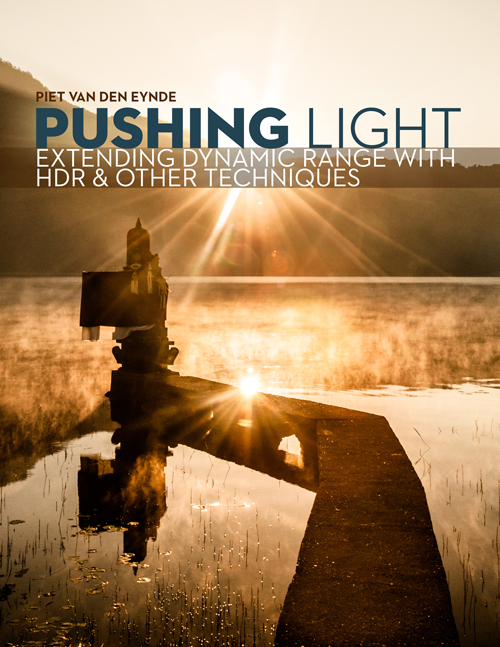 One of the big challenges of working with light is the contrast between light and dark and the ability of film or sensors to capture that full range. The camera just doesn't see the way we do sometimes. PUSHING LIGHT is a 112-page discussion of this problem and the various solutions to it. These days HDR processing gets a lot of attention, and as with any technique, it has it users and abusers, fans and critics. But used well it can express our photographic vision in ways other techniques can't. But it's not the only technique. The dynamic range challenge can be addressed with filters, reflectors, and fill flash, as well as the various ways of doing HDR processing with elegance and subtlety. PUSHING LIGHT is about these techniques, and as he always does, Piet Van den Eynde digs in with the expertise of a total geek and the goals and vision of an artist. PUSHING LIGHT also includes links to 12 different short videos to clarify, and add to, the discussion.
Anyone that's had Piet's books knows what a great educator he is, and PUSHING LIGHT is no different. It's meaty and clear, and well-illustrated, and will help you wrap your mind around some of the fundamental challenges of working with light, both in the camera and the digital darkroom.
Find PUSHING LIGHT for $10 on the new Craft&Vision website. If you get Craft & Vision's The Contact Sheet, you'll find the recent issue has been sent to you and there's a coupon code for $2 off in there, along with the usual giveaway – this month it's a $250 Gift Card for B&H Photo. Don't get that newsletter? Sign up here and it's yours. And while you're there check out the new, free, mostly-weekly C&V video podcast, About The Image.