PHOTOGRAPH, Issue 8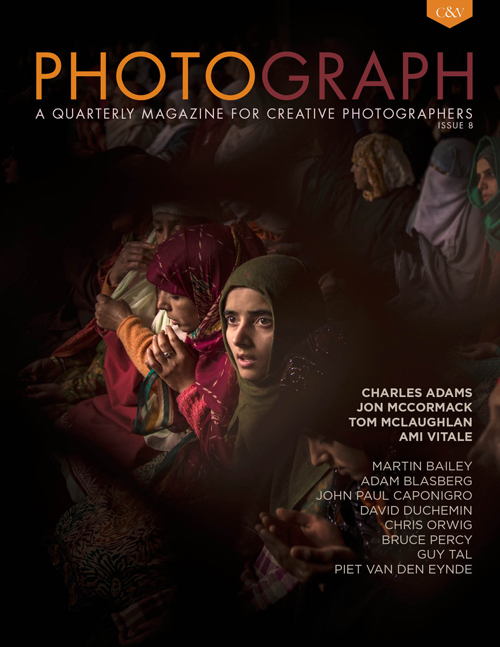 When I dreamed up this magazine, bouncing around Mongolia's Gobi desert, two years ago, it was a big, crazy, What If. Now, with Issue 8, we're celebrating two years with another beautiful issue, beginning with the work of my friend Ami Vitale, an exceptional storyteller and National Geographic photographer. We're also featuring the fine art landscapes of Charles Adams, the documentary humanitarian work of Jon McCormack, and the abstracts of Tom McLaughlan, along with the usual excellent articles from John Paul Caponigro, Bruce Percy, Guy Tal, Chris Orwig, Martin Bailey, Piet Van den Eynde,  Adam Blasberg, and my ongoing Without the Camera series.
As always, it's really big, beautiful, and ad-free. We're working hard to make this the best value in photographic instruction and inspiration, and to do that we've also decided to make this a bi-monthly magazine, giving you 6 great issues a year instead of 4. And hey, speaking of birthdays, and I don't want to give away too much, this month Craft & Vision turns 5 years old and we'll be celebrating. We will not be repeating last year's Fairy Tale / Princess photoshoot, I'm sorry to say (but click the link if you didn't see this last year, it'll give you a laugh), but we'll have some great deals for 5 days and the only way to get in on those is to be subscribed to The Contact Sheet, Craft & Vision's way of bring you short, to the point, deals of the week, and features inspiration and resources. You can subscribe here so you don't miss the sale.
PHOTOGRAPH Issue 8 is available today and if you pick it up in the next week, before 11:59 PM (PST) Tuesday, August 19, it's yours for $6.40, saving you 20%.