The Created Image 2014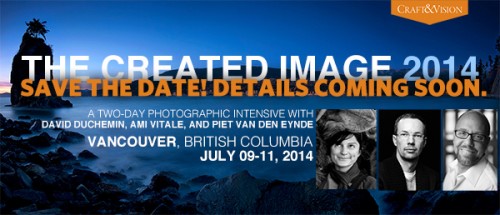 This July we're inviting you back to Vancouver for The Created Image. It's an intense workshop about the art of photography and the journey of craftsmanship that gets us there. And this year I've invited friends.
Ami Vitale is, among other things, a National Geographic photographer and amazing human being, and she'll be giving the keynote to kick off this amazing two days together. She'll also be doing two sessions about photographic storytelling. Piet van Den Eynde is coming from Belgium to do 4 sessions about the art of the digital darkroom, and I will be doing 4 sessions as well.
We will be releasing a full itinerary next week, but wanted to give you a heads up so that when registration opens you'll have had time to check your calendar and make some decisions. We're keeping it relatively small, so space is limited, which means those spaces will go quickly. If you would like to be among the first to know, get your name onto the mailing list now and you'll get details in your inbox before we post the information elsewhere. This mailing list is only for this event.
Where: The Roundhouse Art Centre (Vancouver, BC – Yaletown district)
When: July 9 (evening) through July 11, 2014
Cost: CAD $750 (Early-bird – before April 15), CAD $850 (regular)
Get your name on the mailing list and we'll let you know when early-bird registration opens.