Surprise! C&V Birthday Sale.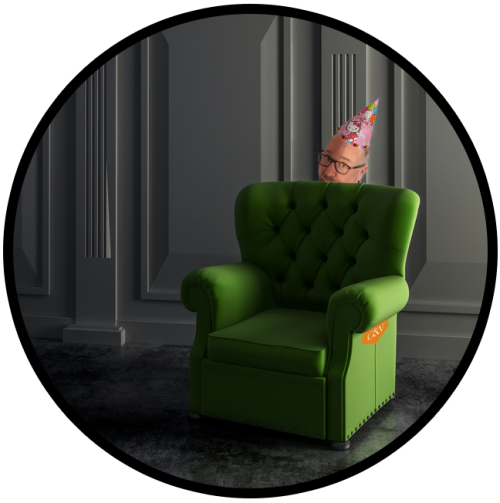 There are three things you need to know about surprise parties.
One: they happen when you least expect them (or they should. Let's face it, few people can really keep a secret and they're not much fun, therefore not the kind of person you want to throw a party for you).
Two: there will be gifts!
Three: OK, there's really only two things you need to know. Did I mention the gifts?
Craft & Vision turns 6 years old this year, which means, according to the Internet's collective wisdom on parenting, she'll be uncoordinated and gawky but able to ride a bicycle. The perfect combination. The Internet also tells me she'll have a tough time with choices because, well, she just wants it all. Don't we all, baby. Don't we all.
So in case you, like us, want it all, and also want gifts – SURPRISE! – we're celebrating early. (That's me hiding behind the computer-generated stock-photo chair, up top. I love surprise parties!) Starting right now and going until 11:59 PM (PDT) tomorrow night (that's Wednesday, May 13) everything in the Craft & Vision store is 50% off, so you can get it all. And we're giving away the first 4 issues of our beautiful PHOTOGRAPH magazine – for those of you that haven't yet had a taste of it.
50% off some of the best photographic education available anywhere AND Issues 1-4 of PHOTOGRAPH are yours for free! Happy Birthday, Craft & Vision!

And if you already have it all, then grab a piece of cake and sit in the corner and talk amongst yourselves about how quickly she grew up and how soon she'll be breaking my heart by running around with other eBooks twice her age, and experimenting with books about gear and spending her time arguing on forums about Canon and Nikon. They grow up so fast.
Thanks for all you've done to make Craft & Vision an inspiring place for photographic education. We couldn't have made it without you!
PS – If you know others who love photography as much as you and I do, invite them to the party. The more the merrier – there's plenty of cake for everyone. As long as they get here before Wednesday, May 13 at 11:59 PM (PDT).