Win My Tripod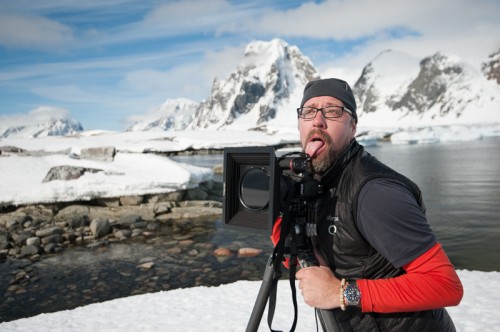 Me and one of my tripods in Antarctica. You will be getting a non-licked version.
I have too many tripods. I know, I know, first-world problems. But my problem is your opportunity because we thought we could either throw one of these $1,200 Gitzos in the garbage (totally kidding), OR, we could give one away. I opted for the latter.
So, here's the deal. I have a Gitzo GT3530LS, with a Gitzo ball head, attached to which is a Really Right Stuff quick release. It's in great shape but it doesn't get out much anymore and that's a shame. So we're making it simple – anyone that leaves a comment on this post gets entered into the draw, and in a week, we'll give it away. And we'll pay for postage. See how easy that was?
We're doing this in conjunction with Craft & Vision's Deal O' The Week – this week that's Dave Delnea's Shoot the Look, Volume 01, a fantastic video series that will teach you a tonne about re-creating certain looks – from conception to camera-work to post-production in Lightroom, it's all there. And while it's usually $40, and I think that's a great value, until November 4 at 11:59 PM (PST) it's only $10. That's 75% off, but for one week only.  Check it out and be sure to watch the teaser video.
Now drop your name into the comments (below) and in a week we'll be shipping this great tripod to a new home where I hope it'll be as lovingly abused as my own are. *Make sure you give us your email address, if we can't email you, we'll pick someone else ('cause, um, how else are we going to know who you are. We will not be putting that address into a mailing list, that's up to you.)
Want to be on the Craft & Vision newsletter so you don't miss stuff like this? Sign up here. We send one email a week with great deals and featured inspirations and resources.
November 04, 4:30pm PST – The giveaway is now closed. Thanks for playing! Marlies Anastasia, you've got a Gitzo tripod coming your way. We'll wipe it down with disinfectant and get it off to you just as soon as you send us your mailing address! Thanks to all for playing!