The Created Image 2014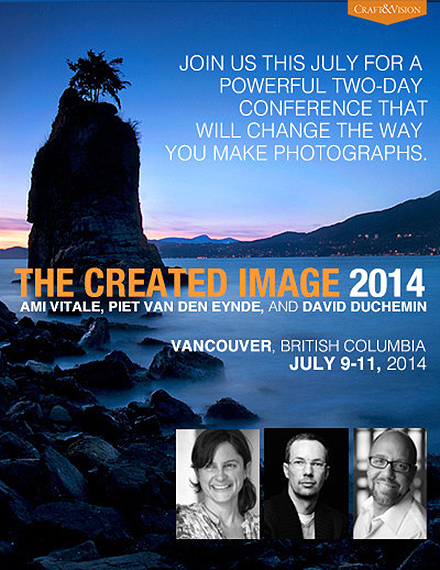 The Created Image conference went so well last year, we're doing it again, and there's room – after pre-sales to those who asked to be notified first – for about 10 more people.
These two intense days will change the way you make photographs. I've invited two close friends: National Geographic photographer and the only human being on the planet to be officially designated my Evil Twin, Ami Vitale will be speaking about the power of photography and visual story-telling and will kick off the conference with a keynote address before we all meet and greet over wine and cheese on Thursday evening, July 09. Piet van Den Eynde is coming from Belgium to lead 4 sessions about post-production, and I'll be taking the other 4 sessions. Full curriculum descriptions can be found on the event page.
It's going to be a small, intimate setting, with lots of chances to spend time with Ami, Piet, and I, and Vancouver's a beautiful city so there's plenty to explore in the early mornings and evenings with your camera. If you're not looking to learn how to use the buttons and dials on your camera, but want to work on the stuff that makes us all the photographers we are, this is going to be an amazing couple of days. We'd love to see you here.
If you act before April 15, you can still get in on the Early Bird discount pricing, which will save you $100.
For more information on the Created Image 2014, or to register, visit the event page.
Anticipating the questions, yes, last year we filmed the presentations and we intend to do the same this year, to make at least some of the content available to those who can't come, but there are no guarantees. Good chance you'll be able to buy some of the sessions as downloadable content from Craft & Vision, but don't let that stop you from coming.