Love & Light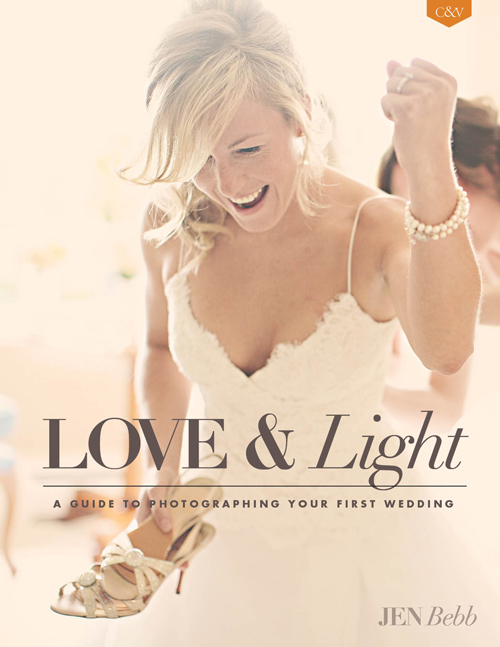 I don't photograph weddings. I have shot precisely four of them, including a big Indian wedding that felt, for all 16 hours of it, that it would kill me. It takes a special kind of photographer to do that kind of gig and I've got nothing but respect for those that do. The best wedding photography takes killer instincts, a great eye, a love of story and moments, and a brain for logistics that I don't remotely have. But if I were getting into weddings, I'd want Love & Light by Jen Bebb, one half of a couple that has been photographing weddings for 14 years and has been named among the top wedding photographers in the world by American Photo. Jen's a great photographer and when it comes to weddings she's been there done that over and over again – over 700 weddings. You couldn't ask for a better guide to photographing weddings.
Love & Light is full of really solid wisdom, from the actual making of photographs, to shot lists, posing guides, and logistics help, it's all there, and the book (a downloadable PDF) includes Evernote files of all the lists so you can load them onto your iPhone, iPad or Android for fast reference when you prep and shoot the day, checking things off as you go. If you don't have Evernote, it's a free app and the information you need to get it, and get started with it, is in the book.
Anyone can photograph a wedding, but doing it well, and doing it like a pro, isn't easy. Love & Light gives you full access to the heart and mind of an experienced photographer and teacher, who levels the learning curve on what, who, how, where, and when to photograph during one of the most romantic, important – and un-repeatable days of your client's lives.
Love & Light is over 120 pages long, includes full Evernote notebook files and if you pick it up before July 22 at 11:59 PM (PST) it's yours for only CAD $10 instead of $12.