The MOMENT Giveaway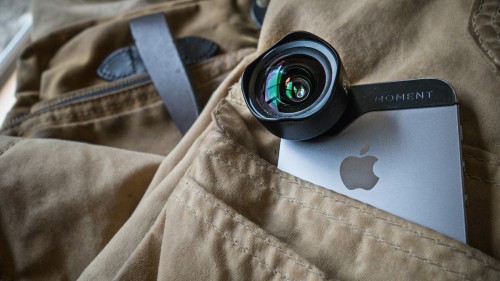 Your chance to win 2 lenses from Moment Lens Co., and a signed copy of The Visual Toolbox
*The giveaway is now over and winners are announced at the bottom of the post.
Last year one of my favourite new bits of gear was (still is) the wide-angle lens for my iPhone, from Moment Lens Co. They have two lenses for mobile phones – one gets you 2x wider, and the other 2x tighter – and the quality is excellent, which is what gets me excited. For my taste the iPhone lens (you can use Moment on a ton of different phones) is not wide enough for the kind of feel I want in my photographs, and a little too wide for what I like in my portraits. But the Moment lenses change that. They're small enough to toss in your coat pocket and forget about until you want one, and they clip easily onto your phone with a clever little bayonet mount and a plate that adheres to the phone (and will last through foreseeable Apple upgrades so you don't have to keep buying new lenses each time Apple changes its mind, just a new plate, and they're cheap.) I love my iPhone camera, and Moment lenses give me more possibilities, which is why I love the iPhone in the first place – it's brings play and spontaneity back to my photography in a way my larger cameras sometimes hinder.
Anyways, I'm a fan, and last week Moment touched base with me and asked if they could send me a couple lenses and I said I was grateful but what I'd really like is if they would send my readers a couple lenses and they were all over that. So. You know the drill. Check out their website. If you want a crack at getting a care package from the good folks at Moment Lens Co., just leave a comment in the comments below (sorry, RSS readers, you'll have to come to the blog to do this) and let me know you want one. No restrictions on this one. If you're in Timbuktu, we'll send it to you as happily as if you were around the corner.
And because I always feel badly for the folks that don't win, I want to send the winner, and 2 others, a signed copy of my latest book, The Visual Toolbox. I'll do the draw on June 01, randomly choosing 3 names. Just leave a comment if you want in. And while I've got you here, if you've already read The Visual Toolbox, and you want a signed copy, I'll throw in an extra one if you'll leave an honest (but I hope enthusiastic) review on Amazon. Let me know you've left a comment on Amazon and of those who've done so, I'll draw for one additional copy to be signed and sent to you.
Two Moment lenses, four copies of The Visual Toolbox, leave a comment here on the blog letting me know you're in, and I'll do a draw on June 01.
*Update / June 01 – The comments are now closed. Thanks so much for playing along. Phil Marcelo wins the lenses, and to Jocelyn, Matthew Lyon, Mary Ann in Vermont, and Sandy Silva, will come signed copies of The Visual Toolbox just as soon as you send me your addresses. Check your inbox, there's an email there for you all.