PHOTOGRAPH, Issue 11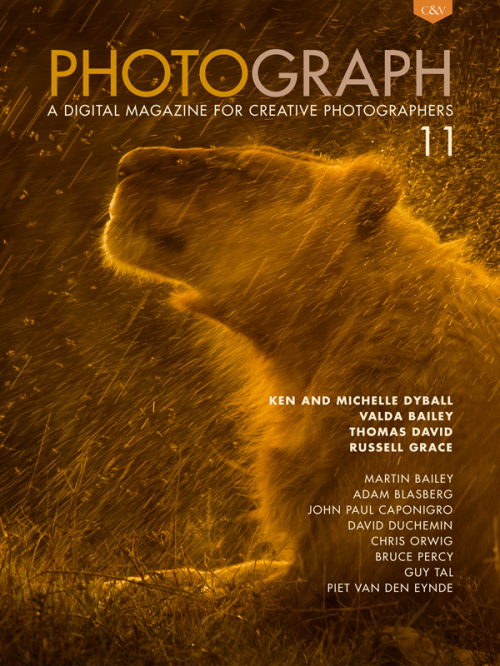 When I met Ken and Michelle Dyball, who created a stunning featured portfolio in the latest issue of PHOTOGRAPH magazine, they were managing a small safari lodge on the Maasai Mara in Kenya. Before we got there we stopped at a hippo kill, to watch the lions eat the massive body. Across from us, a kitted-out Land Cruiser from which some some very long Nikon lenses were emerging. Michelle was taking one shift, photographing a several-day time lapse of the carcass and its return to the earth, while Ken waited for us at the camp. Over the coming days we began to appreciate our hosts for their sense of adventure and love of the wildlife they were surrounded with. When I saw their work I knew we had to feature it in the magazine. There's something emotional about their work, something more than what wildlife photography is so often reduced to: mere illustration.
Ken & Michelle's work is joined by the colourful work of Valda Bailey in her Bus No.8 series, the dramatic high energy Dust & Dance series from Thomas David, and the black and white infrared, America in the Best Possible Light series from Russell Grace. Our usual contributors are all there with some great writing and beautiful images, including Bruce Percy's Natural Light column which particularly resonated with me. Really great stuff. I've included a quick look at a few of the pages, but you can see more on the C&V product page.

PHOTOGRAPH 11 is now out. As always, as a thanks to our regular readers, if you get it before 11:59 PM (PST) on Tuesday, February 3, you can save 20% and pay only CAD $6.40. Think of it a subscription that you're not locked into. Almost 300 pages of beautiful photographs, great writing and down-to-earth teaching. We're working hard to make it the best value in photographic education and inspiration. See the PHOTOGRAPH Collection.