Photoshop for Photographers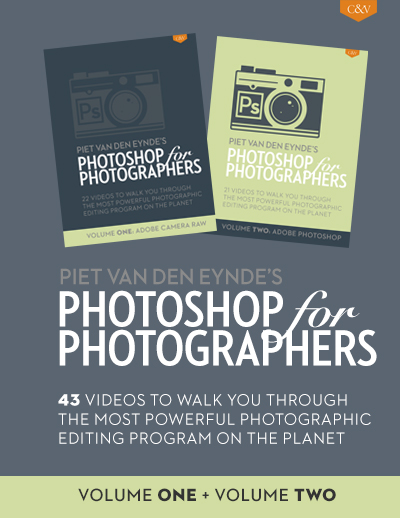 My friend Piet has just sent us the final files for Photoshop for Photographers, Volume One and Two. All told he's given us over 7 hours of teaching in 42 videos, that will teach you more than you thought you needed to know about Photoshop.
In these videos, all around 10 minutes in length, you'll be guided through the essentials on what remains the most powerful photographic editing software on the planet. In Volume One he walks you through Adobe Camera Raw (ACR) and in Volume Two, through Adobe Photoshop.
As always, he is clear and concise, and has found – yet again – a way to show me just how much I really don't know about a program I consider myself fluent in. This isn't a video for advanced power users, but for photographers who want a better grasp of the most useful tools for photographers who want to make something more refined, and in line with their vision, out of their raw files. And speaking of files, Piet has included a full set of exercise files so you can download and work on the same images Piet uses in his tutorials.
There's too much for me to outline here, but you can view the full contents for Volume One and Two by clicking the images below.
The Photoshop for Photographers Bundle is available for the next 7 days for a special price of $30 (that's 40% off in comparison to buying both Volume One and Volume Two separately – $25 each).