SHOOT THE LOOK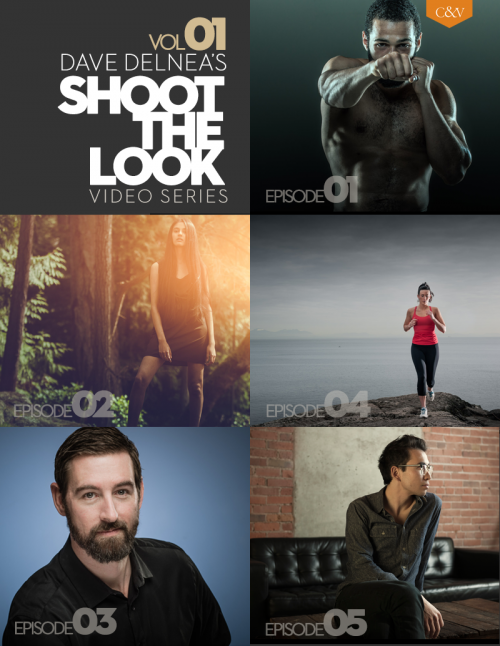 If you want to really learn your craft, it's more than buttons and dials. You need to be able to take all the technical stuff you've got under your belt and apply it to create particular moods and aesthetics. You'd be hard pressed to find a commercial photographer with more credibility, experience, and the desire to teach this, than Dave Delnea. This spring we worked on a new series with Dave called Shoot The Look and today we're releasing Volume 01.
Shoot The Look, Volume 01, is a 5-episode live action video series that unpacks the in-and-outs of 5 popular commercial looks. In the process of talking about – and showing – every consideration that goes into each shoot – from gear and technique, to the final moments in post-production, Dave walks you through it in his accessible, easy-going manner. Each video can be streamed or downloaded, and runs between 15 and 20 minutes (almost an hour and a half of teaching) and will give you all you need to tackle these aesthetics, and adapt them to your own style. These videos are much more than recipes for one look or another, however. The hope was to teach transferable techniques that give you tools to learn this craft and put your own stamp on the images you make, and Delnea and our production team really delivered.
That's the marketing copy. For more, check out the trailer video (above) for a sense of it. Off the record, this stuff is fantastic. I know, I publish this stuff, and I'm meant to say that. But I wouldn't promote it if I weren't so sure of its value to you. I watched the first one in the very early cuts and added several new tools to my repertoire, particularly the post-production stuff Dave does in Lightroom. I had a lot of Aha! moments, and I've been doing this a while. Dave hasn't held back and that's part of what I love about him; like me, he doesn't have much respect for the idea of secrets, and it shows in his teaching. Learn one or two techniques from this and it'll be worth it, but you'll learn a lot more than that.
Shoot the Look is priced to get it into as many hands as possible (virtually speaking, of course). Regularly priced at $40, you can get it for the next week, until June 30 (11:59pm PST), for only $30.