Chasing & Drawing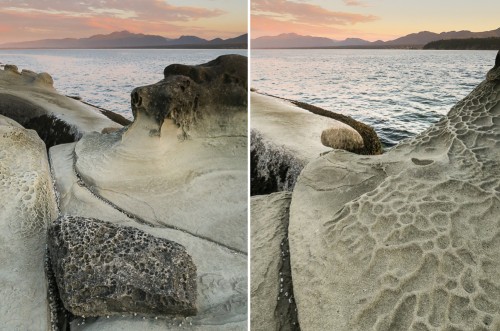 I just got back from 3 days of diving with sea lions in the waters of Hornby Island here in BC. It was easier than I expected to photograph the sea lions because, well, they weren't there. So that blog post I had planned about how amazing it was to play with, and get chewed by, those amazing puppies of the sea – that's not going to happen either. We did have an amazing 20-minute encounter with a Giant Pacific Octopus at almost 100 feet, and he crawled all over our cameras. An incredible experience. But photographs? Anything I came home with will probably get post-processed with the CTRL-ALT-DELETE filter. The images above are some sketch images from a location I'm pretty excited to re-shoot when I return to find the sea lions in December.
I'm not frustrated (OK, maybe a little). I think if I'm always learning I'm always growing, and will always have something to teach and the knowledge of what it feels like to climb the learning curve. I feel your pain, people.
There are two things I wish I'd learned earlier as a photographer (actually three – I also wish I'd learned how to be more patient with learning): one is to understand the craft and technique stuff more in terms of aesthetics and less in terms of gear and buttons. I got there eventually. The second is to understand how to draw the eye of the people looking at our photographs. It took years before I ever heard the idea of visual mass – or the pull of various elements in the frame on the eye of the reader. That understanding is simple, but it's key to composition, storytelling, even some of our post-processing.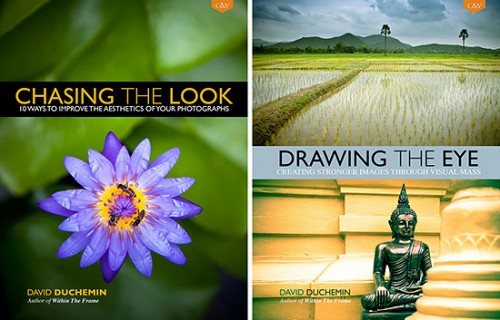 I'm telling you this because while I've backed off a lot on promoting Craft & Vision products on my blog – I want you to know that 2 of my earliest eBooks – Chasing the Look, and Drawing the Eye – are on sale for only $2 each, or together for $3.50. It's a great deal and if you're newer to my blog and my writing, you may not have heard of these two. One week only. Check them both out.
I also want to thank so many people for putting their names in the hat for the Photoshelter draw. This morning I drew names for Anna VanDenmark, Karen Dean, and Cary Dover. There are emails coming your way. Thanks again to Photoshelter for their support of this community.