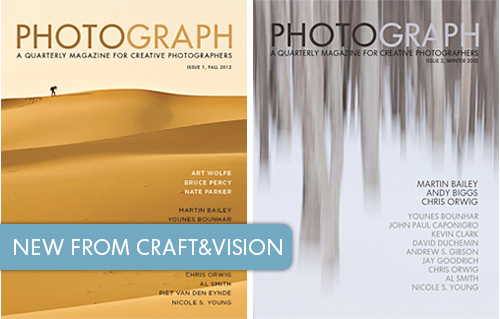 BUY ISSUE ONE
[hana-code-insert name='BUY – PQ 1′ /]
Several months ago, as I bumped across the Gobi desert, I decided to create a magazine. Blame it on the vodka.
It's been years since I bought a magazine other than Lenswork, mostly due to the disappointment of spending anywhere from $8 to $16 on something that's mostly ads, just to get to that one article that's not about Top Ten Pro Tricks to Focus Your Camera! Hey, there's nothing wrong with learning to focus. But I've got that one (mostly) nailed at this point. So I made a list of the things I myself wanted. I wanted, most of all, photographs. Big, beautiful, un-cropped, and unadorned with lame comments or gigantic pull-quotes. I wanted to hear from the photographers I respected. And I wanted to learn about the things that actually impact my craft and my art, like articles about creativity, composition, and printing.
That was in July. Today we're launching Issue One of PHOTOGRAPH, A Digitial Quarterly Magazine for Creative Photographers. It's 132 spreads/pages long, and it's exactly what I hoped for in Mongolia, even if I didn't know it at the time. The first three featured portfolios come from Art Wolfe, Nate Parker, and Bruce Percy, and are followed up with short interviews. I do a column called Without The Camera, and this issue it's about the art of the edit. There's a featured article from Andrew Gibson, and columns from people like John Paul Caponigro (Creative Composition), Martin Bailey (The Art of the Print), Chris Orwig (Creativity), Piet van Den Eynde (Lightroom Before + After), and Kevin Clark (The Studio Sketchbook). Download the Table of Contents.
We've taken our time on this and made something we're proud of. It's ad-free and will always be ad-free. It's quarterly, not monthly, so we can concentrate on making something truly worthwhile and beautiful. We believe in being part of the solution, not part of the problem, so we're paying our authors and our photographers, and we're proud of that. And because we've always been, and will always be, champions of the amateurs, the ones who do this for the love of it, we're committed to profiling photographers who you already know and  look up to as well as those you've not, and giving you a chance to submit your work too. Photography, like any creative endeavour, is about creating and sharing, and we wanted to create a platform for that.
PHOTOGRAPH is available now through Craft & Vision, as a PDF download, for USD$8.
BUY ISSUE ONE
[hana-code-insert name='BUY – PQ 1′ /]