Nov 13th
2012
New eBook – Andrew S. Gibson's SLOW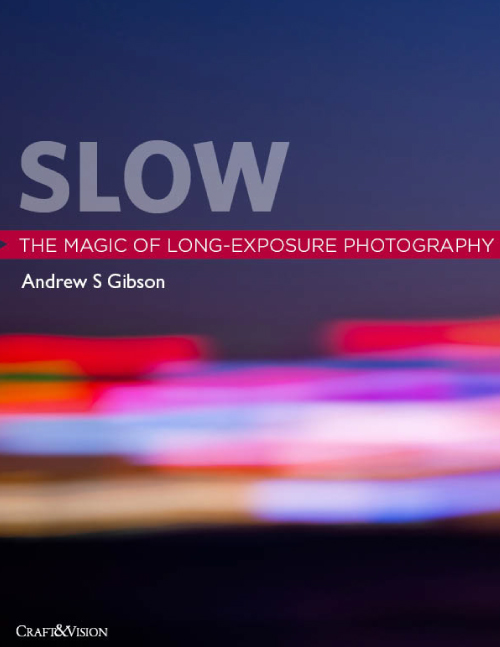 When I first picked up a camera the fastest shutter speeds got all the glory. My Pentax Spotmatic had a top shutter speed of 1/1000. It absolutely BLEW MY MIND when cameras began to go to speeds of 1/8000. I never had a need for such speed, but I liked to know I could freeze drops of water and stuff if the need arose. Now, years later, I seem to spend more and more time at the other end of the dial, chasing looks that can only be created with slower shutter speeds.So when Andrew Gibson asked me if we'd consider publishing SLOW, I just said something intelligent sounding like, "make it happen!"
SLOW is 64 spreads of teaching and inspiration on the techniques and aesthetics of using a slow shutter, including panning and intentional camera movements, long exposures, related equipment, and issues of exposure. He's included a couple case studies from photographers Doug Chinnery and Joel Tjintjelaar, to compliment his own work, and created an excellent primer on the subject. I'm as excited as I am about this one because I'm using so much intentional camera movement in my own work, as I explore impressionism, and it's resulted in new ideas and projects I'd have never pursued if I hadn't started thinking laterally about exposure. Between my twilight series (blue skies at dusk, not pasty pubescent vampires) and my impressionist stuff, it's been a while since I either anchored my camera to a tripod for 30-second to 10-minute exposures, or slowed the shutter to something like 1/5s and had an intentional seizure, moving the camera back and forth. Watching me make photographs has never been so entertaining (or taken so long!) Even the bulk of my iPhone photographs these days come out of an app called Slow Shutter.

[ hana-code-insert ] 'BUY – SLOW' is not found
If you're looking to explore the creative possibilities behind the slow end of the shutter dial, looking for some new ideas, or wanting a primer on intentional camera motion, panning, or long exposure techniques, SLOW is an excellent place to begin.
Special Offer on PDFs
For the first five days only, use the promotional code  SLOW4  when you checkout and pay only $4 OR on CraftandVision.com use the code  SLOW20  to get 20% off when you buy 5+ PDF eBooks.
These codes expire at 11:59pm (PST) November 18, 2012.