May 20th
2015
Comments
Comments Off

Posted in: News & Stuff
We Should Talk (SOLD OUT).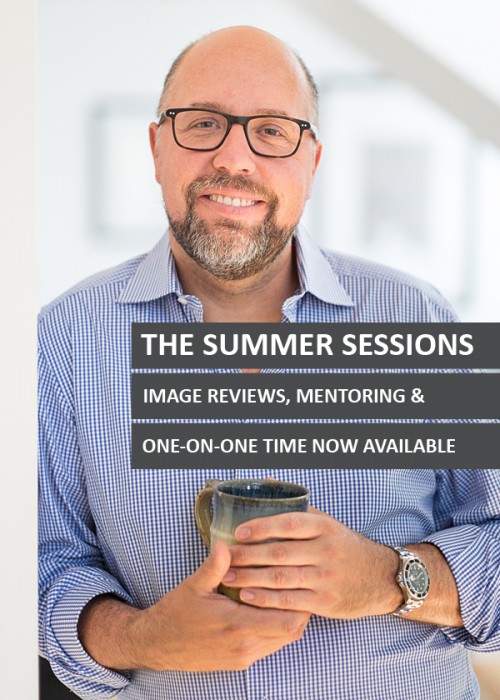 Pour the coffee; let's talk. (Before you read this and get excited, I need you to know it sold out. All the spaces were booked within 24 hours. Thank you so much for your confidence in me, I'm grateful and humbled and can't wait to get working with you. If you missed it, we'll be doing it again, just not too soon.)
It seems to me that once you read all the books and realize you're reading the same stuff over and over again, you've outgrown that means of learning. Then what?
An obvious next step might be image critique, but from whom? Guidance about your work is only as good as the voices from which it comes, and only you know whom those voices should be. At very least they should be voices you respect, from people in whose work you see something you respect and in which you see something that suggests this person has something to teach you.
The same is true of business advice – it's a dime-a-dozen, but how valuable it is to you will depend on the person from whom it comes. Are they doing business well, in ways you respect?
"David has been a constant voice in the development of my photography style, business, and voice, since the very beginnings of my journey as a professional photographer.  There are many voices in this profession that ring true to me, but it was David I turned too when it felt like the hurdles were getting a little too high and a little daunting.  His expertise as an artist, photographer and listener made a world of difference to me and I am delighted to have the opportunity to work with him one on one. " ~ Vanessa Powell
Over the last year two questions keep colliding for me – one has come from you, the audience for whom I write and teach: Can you critique my work, mentor me, or provide business coaching? The second is my own question: how can I make myself available in a way that's organic, that acknowledges that different people have different needs and don't fit well into programs, and that acknowledges the reality we all face: that my time is limited and I can't possibly respond to every request and still do so in a way that's considered and thoughtful, and provides real value for those that are reaching out to me.
So this summer I'm going to try to answer both these questions by making myself available for one-hour blocks of one-on-one time on Skype. What you do with that time, is mostly up to you. It has to be, because only you know what you need. For some that will be a conversation about creative process and direction, for others it'll be a conversation about your photographs, or a body of work. And for others still, it might be a discussion about branding, pricing, and marketing yourself.
"David invests in people.  From the first minute I talked to him, I knew that he was truly interested in helping me achieve my goals.  He is incredibly generous with his ideas, and he is great at breaking big, pie-in-the-sky type dreams down into actionable plans. This guy isn't about toothless, inspirational quotes that will make you feel good and leave you wondering what to do next; he's about getting stuff done." – Graham Scobey
How long you want to engage in this kind of relationship is also up to you. If you'd like to talk to me four times over a couple months as we hammer out some direction and you work on some assignments, you can buy a Mentoring bundle. Or you can have one conversation and come back if and when you want to do it again. Image reviews would be a little different. You'd submit your images ahead of time. I would then spend 30 minutes recording a screen flow review of the work, send you that file, and then have a 30 minute conversation that comes out of that review, including suggestions for direction, creative exercises and assignments.
"Mentoring with David is one of the best things I've ever done for my photography. He's been a trusted, guiding force who has helped me discover where my passions and strengths lie, and how I can best translate that into a business that works for me, and serves my audience with relentless dedication. He's helped me truly follow my heart, and my work is more authentic and I'm more confident in it as a result." – Kate Densmore
The obvious question is this one: how much? A one-hour session is CAD$300. Save 10% on 2 one-hour sessions, and a mentoring package of four hour-long sessions is $240/each (purchased as a bundle for $960 – saving you 20%). Securing your time will be simple, though limited to my availability – I've set aside only 20 hours on my calendar from June through August -, and once you've booked the time, my manager, Corwin Hiebert, will email you to schedule your specific time and give you more details.
Learn more at Craft & Vision / Summer Sessions.
NOTE: If you have a question or concern about booking a mentoring session please contact my manager, Corwin Hiebert, directly at: corwin@davidduchemin.com.
I know this won't be for everyone, but for those that can take advantage of this, I am so looking forward to working with you. Once these summer sessions are over I've got some big blocks of travel planned, but intend to open another block of time in the new year, perhaps in March once I'm back from Africa and India.