SEE THE WORLD For $15, Win a Fuji*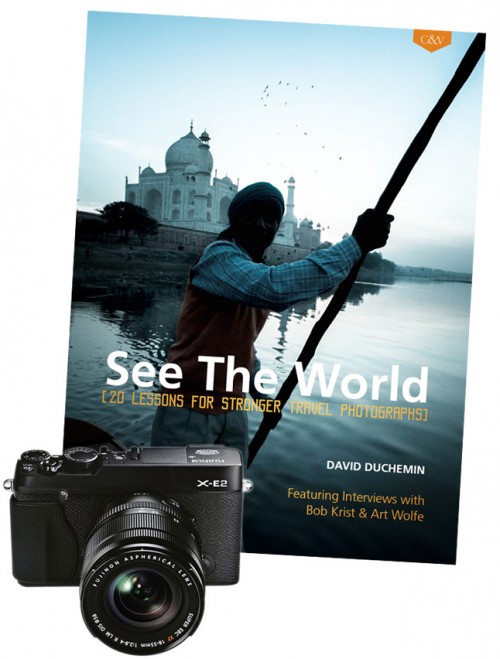 Today we're releasing a book we've been planning for a long while. It's a book about travel photography that just never happened, until now, because I was busy traveling. But today it's out and if you buy it this week, before February 19, 2015, you can save 25% on it, and be entered to win a Fuji X-E2, one of my favourite cameras, and an 18-55mm lens. We all create differently, but I could travel the world with this one camera and lens and be very happy. It's about as close to the ideal travel kit as I've seen, and I'd love to send you off on your adventures with one.
The best photographs from around the world have so little to do with which camera was used, or how compact the tripod was. They have everything to do with the photographer you bring with you. This is an investment in that photographer. Sure, I talk about some of the issues of traveling, stuff like which cameras I take, and how I deal with carry-on luggage restrictions, and yes, I include packing lists and discussions about tripods and bags, but that's just the trivial stuff. The important stuff comes in the form of 20 lessons designed to teach you what I believe is the real art of traveling with a camera while experiencing new places, landscapes, and cultures. Stuff like storytelling and finding elements of the visual language that help you tell those stories; about dealing with people, and working through the creative process of seeing places for the first time.
"The best photographs from around the world have so little to do with which camera was used, or how compact the tripod was. They have everything to do with the photographer you bring with you. This is an investment in that photographer."
The book is available only in digital format as a PDF. It's almost 210 pages, and includes interviews with Bob Krist and Art Wolfe, both veteran photographers who've traveled the world for their whole careers. Until the end of February 18 it's only $15. *Everyone that buys SEE THE WORLD before February 19, 2015 gets entered for a chance to win a new Fuji X-E2 and 18-55mm lens. (I'll be in Kenya on assignment during that time, so the draw will be made, and the winner announced, when I get home at the beginning of March – *Update – Congrats to Gary Clennan from Calgary, Canada – you've got a new Fuji on the way!)